STM MICROTEC: INDEPENDENT AND VERSATILE LABORATORY MILLS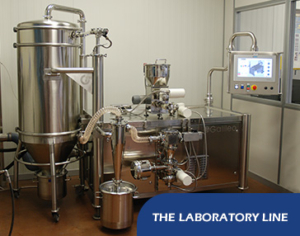 Since 1971 STM Microtec has been providing integrated solutions and tests for grinding and dosing. A wide and complete range of customized services, from single machines to complete packages for numerous industrial and environmental applications.
STM stands out for its concept of intelligent work in a dynamic world, where low-cost research with high physical and chemical data acquisition is essential to take into account new production possibilities.
The Laboratory Line represents the ideal choice for a research and development department and for companies with limited production quantities but of high-quality standards.
With its autonomous workstation, the pilot mill is a true autonomous and multifunctional laboratory plant that is highly innovative from a technical point of view.
The operating principle of the installed machines is the same as that of industrial production machines.
The possibility of testing the micronization on a small scale guarantees the transfer of the laboratory process to an industrial scale machine, thanks to the identification of the grinding mill, and a linear and precise increase in the machine production factor.
The GALILEO LINE offers 3 different functions:
MJS – compressed gas jet mill (air / nitrogen);
JCF – impact grinding mill;
SDF – separation and classifying mill.
The three machines are specially designed for the production of small batches, the equipment and electronic devices used follow high design standards and the technology applied is at the forefront. The mechanical part is integrated with a series of electronic devices integrated as well into the transformation process to analyze the process parameters and the analytical recovery of p physical, chemical and mechanical data received by the instrumentation during the grinding of the product.
The ZERO LINE consists of:
MDS – dosing system with volumetric augers and gravitational weight control;
CLC – Cryogenic Auger (Liquid Nitrogen System);
PIN – Mulino a Pioli – Pin Tool;
NET – Mulino a Rete – Net Tool;
EV – Venturi Ejector – Propulsion.
The operating principle and the conformation of the working chamber allow the application of cryogenic grinding or cryopulverization systems, for the artificial embrittlement of tenacious products at room temperature.
The STM Lab Line offers an ideal solution for obtaining process parameters, thanks both to the extreme quality of the granulometric results and its versatility.
STM has a Pilot Plant equipped with an efficient Laboratory where it can simulate and verify the performance of its technologies, varying the input material and the operating and process parameters by adapting the solutions to every need.
https://www.stm-microtec.com/wp-content/uploads/2022/11/Week46_Immagine-News.jpg
286
364
paolo
https://www.stm-microtec.com/wp-content/uploads/2021/06/stm-microtec-logo.png
paolo
2022-11-21 11:26:36
2022-11-21 11:26:36
STM MICROTEC: INDEPENDENT AND VERSATILE LABORATORY MILLS