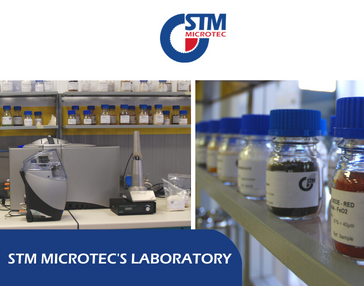 Product analysis and characterisation: a valuable service that can improve your plant performance
thanks to state-of-the-art instrumentation and a team of specialists, STM Microtec has a laboratory that is able to process a product analysis that includes all those physical and chemical characteristics relevant to the transformation of the materials to be micronized and selected.
The results can be very valuable for optimising plant performance: it is a complete study and characterisation of the product. In the STM Microtec laboratory, not only particle size analysis is carried out, but also a broad spectrum of physical analyses relating to the state of matter, such as micrographic and morphological analysis. Everything is done by using dedicated and specific equipment and instrumentation, from slip control, to chemical moisture analysis, as well as the protein content of food flours.
Other advantages of the STM laboratory include rapid sample control, reduced product analysis costs and constant physical analytical support of milling and sampling results.
Rapid and complete product characterisation
STM Microtec's laboratory therefore offers an analysis service for ultra-fine powders and characterisation of target samples, as well as active support for plant and technical development.
In a changing and rapidly evolving market, analytical feedback and the choice of technologies is crucial, but so is the speed of activation and the readiness to process results.
STM Microtec offers support for the research and development of micronized materials, assisting customers in the study phase and in the choice of the most suitable technologies for the type of product to be treated.
In Italy, the Company can offer analysis directly on field, at the customer's facility, thanks to a mobile laboratory suitable for on-line connection, particle analysis and technical adjustments directly on the existing plant. Thus being able to provide immediate improvement solutions and a long-term integration plan of the most suitable technologies to maximise our customer's productivity.
https://www.stm-microtec.com/wp-content/uploads/2023/03/copertina-sito-stm-laboratorio.png
286
364
paolo
https://www.stm-microtec.com/wp-content/uploads/2021/06/stm-microtec-logo.png
paolo
2023-03-16 14:51:35
2023-03-16 14:57:12
Product analysis and characterisation: a valuable service that can improve your plant performance