JCF IMPACT MILL WITH DYNAMIC CLASSIFIER: THE STM SOLUTION FOR PRODUCING FLOURS WITH HIGH PROTEIN CONTENT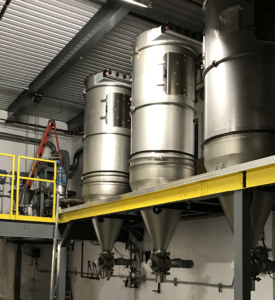 Nutrition is a powerful mean of prevention and a fundamental tool in dealing with everyday life. The increased awareness of the importance of a balanced diet and the use of natural products has led to greater use of high protein flours.
These are flours with a high concentration of proteins and fibers and with a very low content of carbohydrates and fats used both in bakery and pastry, and in the production of superfoods and sports foods, as well as vegetable powders for the production of scrubs or for make up.
STM has always collaborated with the food, parapharmaceutical and cosmetic industries to obtain high protein flours that retain the fundamental organoleptic properties and have a higher protein value than the starting material.
Particularly suitable for this sector is the JCF series grinding and selection mill combined with the SDF dynamic classifier, for maximum protein extrapolation.
JCF Impact Mill
It consists of a horizontal geometry grinding unit and specific tools for this application, shaped to provide maximum efficiency between grinding impact and product ventilation.
The ground particle passes through a selection sieve in a single compact machine, with a determinable and constant particle size 100% <50µm.
SDF dynamic classifier
The milled product enters the separation chamber, where the forced dynamic rotation between the static rotor and the dynamic classifier with adjustable rotation are able to divide and extract a significant amount of extra fine particles 99% <20µm.
SDF is integrated to the instrumentation for detecting the protein content, through an in-line analyzer.
The classifier unloading cone, makes the coarse product with fraction 20 ÷ 50 µm flow easily, while the finer dust is collected in the dedusting filter.
The JCF impact mill allows you to adjust the grinding parameters so that the flours are grinded to the necessary fineness with a high concentration of protein powders and the in-line separation of the coarse product poor in proteins.
The operational advantages of the JCF mill are:
Maximum energy efficiency
Low noise emission
Minimum maintenance
Compact machine, minimum space required
High reliability and quality of the system
Easy cleaning and maintenance
Reliability
Grinding of a wide range of materials
Possibility of temperature conditioning.
The machine can be easily opened for checks, cleaning and maintenance as it is equipped with a pneumatic mechanism that facilitates the opening of the grinding and classification chamber.
Do you want to learn more about JCF? Contact us.
https://www.stm-microtec.com/wp-content/uploads/2022/11/Immagine-per-news.jpg
2367
2167
paolo
https://www.stm-microtec.com/wp-content/uploads/2021/06/stm-microtec-logo.png
paolo
2022-11-07 14:29:05
2022-11-07 14:41:59
JCF IMPACT MILL WITH DYNAMIC CLASSIFIER